Kids Suits
Kids suits are our speciality at Roco Clothing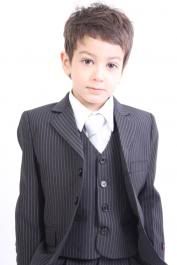 With over 20 years experience selling kids suits we know what we're doing. We source the highest quality suits and sell them at very reasonable and affordable prices.
Our aim is to make the buying process as easy as possible as we understand that deciding on which suit to buy, particularly if it's for a special occasion, can be a painstaking one.
Measuring For Kids Suits
We suggest starting out at our measuring video. It's important that you have the correct measurements prior to buying a suit and not everyone is aware of the exact points to measure from and to. This short video will help you through the process and ensure that you can choose the best fitting suit.
Our Range Of Kids Suits
There are a whole host of special occasions that children are invited to attend now which require them to change out of their t-shirt, jeans and trainers and into more formal wear. Weddings, christenings, first communion, school proms, presentations and birthdays are just some of the events and special occasions that may require a suit to be worn. Here at Roco Clothing you will find a suit for every occasion.
If you're looking for kids suits for a wedding check out our fantastic range of 4 and 5 piece cravat suits.
These suits look fantastic and are great as pageboy suits. We have suits that will fit boys aged from 3 months up to 15. The 4 piece suit includes trousers, waistcoat, shirt and cravat and the 5 piece also comes with a jacket.
As you can see from this photo they really look the part and starting at less than £20 they are great value for money.
We have suits in a range of colours that include white, ivory, beige, black, wine, gold, pink ,silver, brown and grey so no matter what colour you have in mind we should have something to meet your requirements.
Our range of boys first communion suits are some of our best sellers. Young boys have to look their best at these special occasions and wearing one of our first communion suits will ensure that they do.
Trying to find a tail or morning suit for a young boy that fits well and looks great can be difficult but we stock a super range that are excellent quality and fantastic value for money.
Buying one of our kids suits leaves you with only one final purchase to make and that's a pair of quality shoes to perfectly match the colour of the suit you have chosen. We stock a great range of boys shoes and other accessories including boys shirts, ties, bow ties, belts and braces.
No matter what your requirements we know what we're doing here at Roco Clothing when it comes to kids suits.